Artificial ground freezing is a construction technique that is used in the construction of shafts, mines and tunnels to provide temporary earth support and groundwater control when other conventional methods such as dewatering, shoring and grouting or soil mixing do are not feasible. Ground freezing is also used to provide regional groundwater barriers around mining operations for gold and other minerals, oil sands or oil shales. It is often referred to as ground freezing, soil freezing, or freeze wall. The ground freezing process involves drilling and installing a series of relatively closely spaced pipes and circulating a coolant through these pipes. The refrigerated coolant extracts heat from the ground, converting the soil pore water to ice resulting in an extremely strong, impermeable material. It is the most positive method of ground improvement used in the underground construction and mining industries.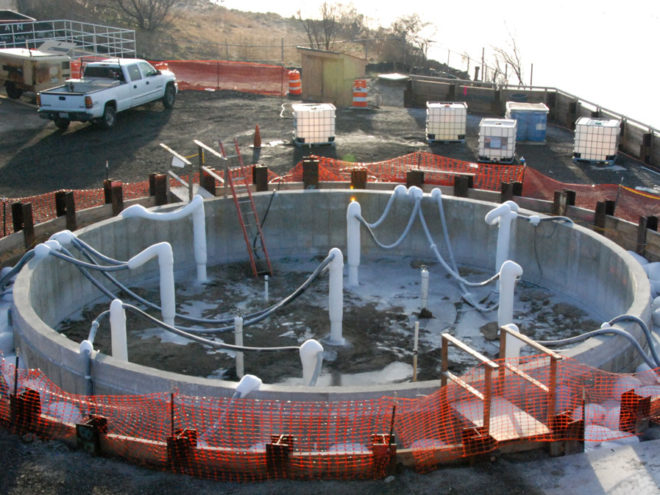 The freezing process uses an entirely closed system. There are no chemicals injected into the ground. The coolants used can be environmentally friendly glycols, calcium chloride brine or liquid nitrogen. These coolants are chilled with several different types of either above or below ground electrically powered refrigeration plants. In the case of liquid nitrogen, the liquid is delivered to the project site in tankers and vented to the atmosphere immediately after circulating through the pipes.
Ground freezing for deep shaft excavation
Deep shafts are the most common application of ground freezing. The freeze pipes are drilled and installed around the perimeter of the proposed shaft do the required depth. The circulation of the coolant is initiated until a frozen zone ranging from 1 to ten meters is formed. The inside of the shaft is then excavated and lined and the freezing system turned off.
Ground freezing in the tunneling industry
Ground freezing is used extensively in the tunneling industry. Tunnel applications use several different approaches. The most common involves horizontally drilling the freeze pipes around the tunnel perimeter very similar to the frozen shaft approach. This horizontal configuration is used to tunnel beneath roads or railways or to construct safety cross passages between two existing tunnels. Another method of constructing tunnels is to freeze the entire alignment solid and mining through a frozen mass of soil. This approach is often coupled with the Sequential Excavation Method (SEM) and used for small diameter tunnel adits.
Ground freezing and Tunnel Boring Machines
Ground freezing is also used in conjunction with Tunnel Boring Machines (TBMs). The ground in front of or around the TBM can be frozen in advance to create a pre-planned safe haven for tunneling interventions or used in emergencies for TBM repair.
Ground freezing to isolate groundwater from mining operations
Ground freezing has been proposed for regional groundwater barriers up to 10km long to isolate groundwater from mining operations instead of large scale dewatering operations that have environmental consequences or require complex and expensive treatment operations.
Ground freezing success
Ground freezing is successful when completed by experienced contractors that have the required specialized equipment. It is an interactive process requiring advanced engineering, accurate drilling as well as custom made refrigeration and instrumentation equipment.